Aquatic Feed

HIGH CAPACITY PROCESSES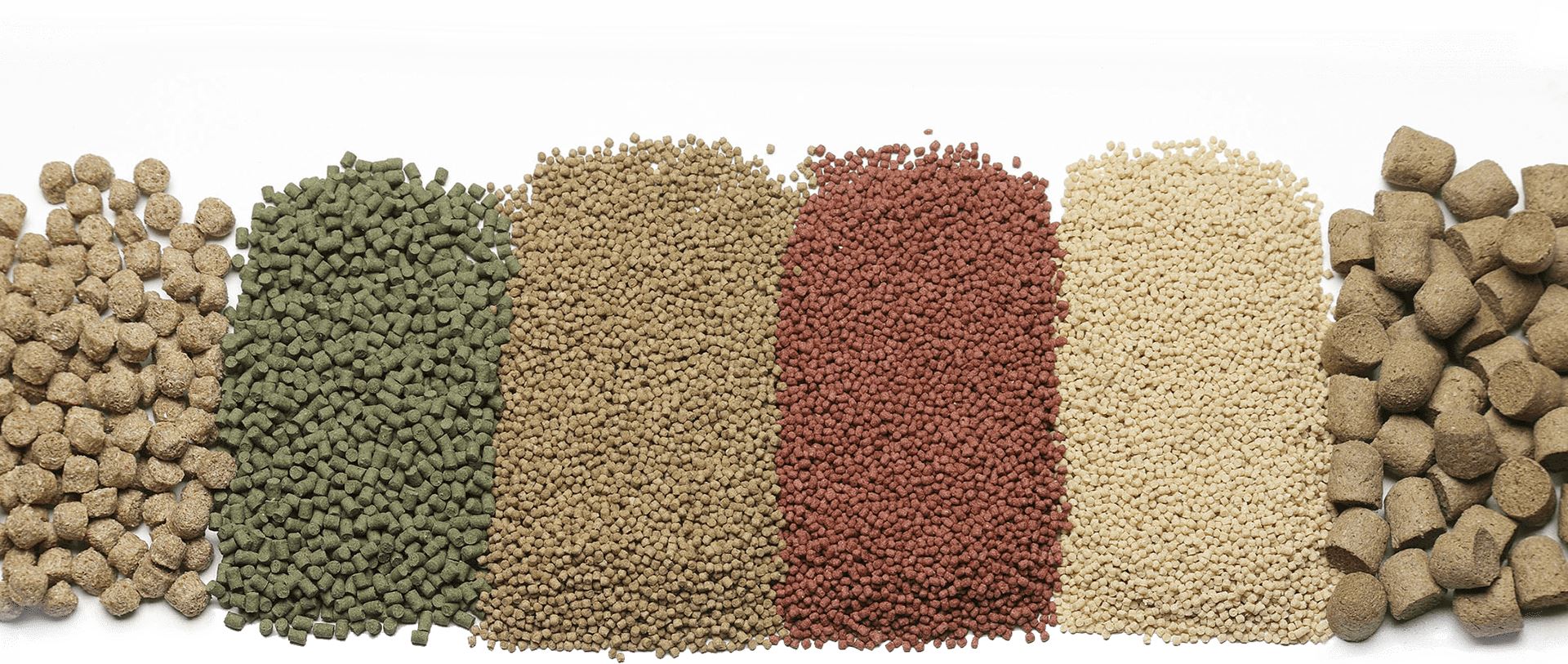 Total Control of Pellet Attributes

Unique extruder features allow precise control of finished product density for floating and sinking feeds. The operator can also adjust operating conditions to control textural properties, such as oil uptake during the external coating process.

Superior Production Efficiency and Versatility

Produce aquatic feeds ranging in pellet size from 0.5 to 50 mm

Allow up to 22% fat or fish oil to be incorporated during extrusion

Permit the use of a wider range of raw materials through optimization of energy sources

Greater Feed Stability in Water

Durability of feeds for bottom dwellers has shown stability of 24 hours or longer without the inclusion of binders. Floating feeds also exhibit superior durability and floating qualities.
Wenger Extrusion Solutions for RAS Feed Production
Wenger innovative extrusion solutions deliver clean, durable, nutritional feeds specifically designed for the most efficient RAS operations.
Feeds produced on Wenger systems maintain their integrity better and longer, for clean and clear water. So you feed the fish, not the filter.
Learn more about the Wenger RAS advantage. Email us at aquafeed@wenger.com today.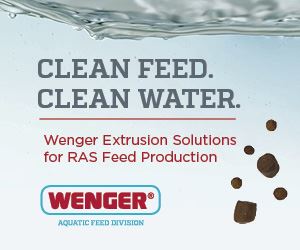 Extruders
C2 8.1 Conical Twin Screw Shrimp Feed Extruder
The Conical Twin Screw Shrimp Feed Extruder redefines the limits on sinking feed diameters and provides an alternative to pelleting.
3 TO 5 TIMES HIGHER PRODUCTION RATES

Creates 3 to 5 times higher production rates and improved size uniformity

TAILORED SPECIFICALLY FOR AQUATIC FEEDS

Tailored specifically for aquatic feeds down to 0.8mm in size

SHRIMP SURVIVABILITY INCREASED

Shrimp survivability increased from 75% on pelleted feed to 88.9% on extruded feed

QUICKLY ADAPTS TO RECIPE MOISTURE

Quickly adapts to recipe moisture, recipe temperature, cook in the preconditioner and extruder speed
Download Brochure
Shrimp Feed Dryer The Wenger Four Pass Continuous 24x30 Shrimp Feed Dryer

The Mesh Screen Conveyor retains all feed while maximizing process airflow that removes moisture from the product.
Heavy Duty Steam Coils ensure reliability and provide an abundance of consistent, efficient heat to the drying process.
The new Direct Drive Spout Spreader provides easy in-line adjustment of spreader to create a level product bed, which is important for uniformity in the final product moisture level.​DOWNLOAD BROCHURE
Efficient Use of Plant Space
The Shrimp Feed Dryer uses height instead of taking up limited floor space in the plant. Product goes through extra passes within the taller framework of the dryer, which means it's blended multiple times during the continuous drying process.
Retention Time
Variable speed control of all conveyors in the Shrimp Feed Dryer provides process adjustment to pinpoint the drying time and bed depths needed for the shrimp feed drying process.
Temperature Control
Using its heavy-duty steam coils, the Shrimp Feed Dryer's steam control valves precisely control zone process temperature. Three temperature zones provide flexibility for perfecting the process parameters.
Airflow Control
Fine-tuning of process airflow speed and balance allows for production of a variety of feed sizes and densities while maximizing drying capacities of each product.
Airflow from both sides of the dryer provides even drying across the bed
Speed control optimizes the drying capacity of each product
Available adjustments improve efficiency of the drying process and quality of the final shrimp feed
Request Info
to discuss the feasibility, design and implementation for your project
Research & Product Development
The Wenger Technical Center is an agrifood laboratory equipped with the latest in research and production scale extrusion and drying equipment. Let us assist you with:
Product development
Laboratory analysis
Process evaluation
Work With Us
Project Feasibility, Design & Implementation
Count on our knowledge base and breadth of experience that is unsurpassed in extrusion processing and facilities construction.
Start Planning